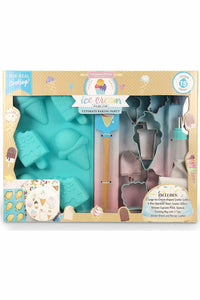 Dimensions:
Packaged 13.75 x 1.5 x 10.62 in.
Spatula 8.75 x 1.75 in.
Cupcake Mold 6.25 x 1.12 x 10.37 in.
Cookie Cutters 2-5 in. (varies)

Recommended for ages 6 and up.
I scream for Ice Cream! Create delicious treats with this ultimate ice cream themed baking set! This baking set features food grade BPA free materials that are reusable and made to last. Silicone molds are oven, freezer, microwave and top rack dishwasher safe, and temperature safe from -40°F to 428°F (-40°C to 220°C). The silicone utensils are top rack dishwasher safe. Stainless steel cookie cutters are top rack dishwasher safe. All other items may be hand washed.